Additionally, in a prescreening interview, you can determine whether their salary expectations are congruent with your job. A skilled telephone interviewer will also obtain evidence about whether the candidate may fit within your culture—or not.
11 Tips for Hiring the Right Employees
When a position opens up on your team, you want to ensure that the best candidate fills it. You can implement various strategies into your hiring process to help support this goal. These strategies can help you attract the right candidates or assess whether candidates fit your team's needs or culture. In this article, we discuss the importance of hiring the right employees and offer 11 hiring tips.
The right employee represents an individual who meets all the requirements of their role. They typically have both technical ability and soft skills to navigate situations and interactions effectively. Hiring someone who can fulfill their job duties and is a positive presence can offer numerous benefits for managers. Their skills can help make them more productive and support reaching team goals. If they fit in well with their colleagues and are passionate about the job, it can also boost team morale. As a result, you may see less turnover on your team due to a lack of qualifications or passion.
11 tips on how to hire the right employee
Define the job
A thorough job description can help ensure that the right candidates apply for the position. A generic post with little information may not excite candidates, and it also does not help narrow your candidate pool. Meanwhile, a job posting with detailed information about the day-to-day tasks or unique challenges associated with this position at your organization can help set expectations. This technique can help narrow your candidate list, as the applicants typically will apply when they believe they have the qualifications needed to meet your expectations.
to identify specific responsibilities and requirements. As a manager, you likely already know the typical tasks associated with the role. To gain more insights, you can interview employees in similar or adjacent positions about additional responsibilities the role entails and the skills or traits needed to succeed in it. You can also incorporate information about the team culture or environment to help identify necessary soft skills. These details can help potential candidates gain a clear understanding of the role and whether they fit.
Develop a recruitment strategy
Creating a recruiting strategy can help you identify and attract your ideal job candidates. You can collaborate with anyone else participating in the hiring process, such as human resources professionals or members of your team. There are various components to a recruitment strategy, including deciding where to post job openings, who will conduct the interviews and the types of interview questions to ask. Setting these strategies and establishing candidates on the type of candidates you want to attract can help keep everyone involved with the hiring process focused and on track.
Utilize a prescreening process
Interviewing candidates can be a lengthy process, but performing prescreening interviews can help narrow your candidate list. Typically conducted over the phone, these calls evaluate whether candidates meet the role's requirements. Often, an organization's human resources or recruitment professionals handle this task. You can use the information gained through your job analysis to define the most important qualifications to ask about during this call.
These questions may seek information regarding candidates' relevant experience, interest in the role or organization, preferred work environment and salary expectations. The candidates whose responses meet your requirements can then move on to the interview process. Prescreening candidates can help ensure that your time is spent efficiently by only interviewing the most qualified individuals.
Test your candidates
When hiring for a role that requires specific skills, you can assign tests or assignments to job candidates to ensure they meet your standards. These tests offer evidence of the skills candidates mention in their resumes, cover letters and other application materials. For example, a manager hiring a web developer may give candidates an assignment that tests their coding skills or comfort with a specific programming language. If you test candidates on a routine task they would perform, it can offer you insights into their potential job performance.
If culture is important to your team, you may consider giving candidates a personality test. These tests can help you understand candidates' typical behaviors, including their work and communication styles. They may also offer insights into how candidates respond to situations, such as conflict. You could learn something about your candidates through these assessments that they may not display during interviews. Understanding their personalities more deeply can help you determine whether they would fit well with your existing team members.
Ask creative interview questions
Candidates often prepare for interviews by studying common questions and practicing their responses. These prepared answers may not offer as many insights into the candidate as you would like. Therefore, you can consider developing or researching unique questions to learn something new or interesting about them. These questions may not be work-related, but can help you understand their personality or the way they think. Some quirky questions can also help bring a more fun tone to the interview, making the candidates more comfortable. Examples of unique questions may include:
Take candidates outside the workplace
In-person job interviews typically take place in the workplace, whether in your office or a conference room. You can try to get to know your candidates and their personalities a bit better by taking them to new settings. For example, if you want to assess a candidate's interest in your organization and how they interact with your team, you may take them on an office tour. This tour offers candidates to ask questions about the things they see or people they meet. Someone who does not show much interest may demonstrate that they are not the right candidate.
Define the Job Before Hiring an Employee
With the job description in hand, set up a recruiting planning meeting that involves the key employees who are hiring the new employee. The hiring manager is crucial to the planning. At this meeting, your recruiting strategy is planned and the execution begins. Teams that have worked together frequently in hiring an employee can often complete this step via email.
Recruit the Right Candidates When Hiring an Employee
You can develop relationships with potential candidates long before you need them when hiring an employee. These ideas will also help you in recruiting a large pool of candidates when you have a current position available.
The more qualified candidates you can develop when hiring an employee, the more likely you are to locate a qualified potential employee. Read on to discover the best ways to develop your talent pool when hiring an employee.
Extend a Job Offer
The job offer letter is provided to the candidate you have selected for the position. Most frequently, the candidate and the organization have verbally negotiated the conditions of their hire and the job offer letter confirms the verbal agreements about salary and benefits.
The more senior the position, however, the more likely the job offer will turn into a protracted negotiation about salary, benefits, employment termination, bonus potential, severance pay, stock options, and more when hiring an employee.
Resources:
https://www.indeed.com/career-advice/career-development/hiring-tips
https://www.thebalancecareers.com/top-tips-for-hiring-the-right-employee-1918964#:~:text=Top%2010%20Tips%20for%20Hiring%20the%20Right%20Employee%E2%80%94Every,When%20Hiring%20an%20Employee.%20…%20More%20items…%20
https://www.thebalancecareers.com/top-tips-for-hiring-the-right-employee-1918964
Hiring tips
Collaborative hiring is another recruiting tip that can make a big impact. It's important for several reasons. First—and this is a big one — there's likely more than one stakeholder in your hiring process.
6 Tips for Hiring the Right People
This article was written by Mitchell Terpstra, a member of the Entrepreneur NEXT powered by Assemble content team. Entrepreneur NEXT powered by Assemble is a freelance-matching platform leading the future of work. If you're struggling to find, vet, and hire the right freelancers for your business, Entrepreneur NEXT will help you hire the freelancers you need, exactly when you need them. From business to marketing, sales, design, finance, and technology, we have the top 3 percent of freelance experts ready to work for you.
Depending on your personality (and HR bandwidth at the time), the recruiting and hiring process may be an exciting project to grow your team — or a draining endeavor of resume reading, interviewing, appraising and repeating ad nauseum.
Either way, the risks are real. Hire someone who's overqualified for a position or otherwise an ill fit for your company's culture and they might soon leave you back at step one. Nearly half of all new hires fail to make it 18 months. On the other hand, hire someone who's underqualified, and you might be wishing they leave.
Bad hires have the potential to degrade workplace morale, negatively affect the productivity of others, drain resources, hurt your organization's reputation, cost you revenue, and more. With more organizations shifting to a dispersed or partially dispersed workplace with more positions operating remotely, the hiring process is only going to become harder as the lack of face-to-face interactions may limit your ability to evaluate candidates in person.
With the unemployment rate hovering around 7 percent, you might be tempted to think that hiring should be easier now. However, it's just the opposite, especially if your open position is a remote one, meaning the potential pool of applicants isn't reined in by geography. As a result, you could easily be overwhelmed with too many applicants. What's more, other employers from far away may be competing for the same talent if they're also hiring for remote positions.
1. Write very specific job descriptions.
At the recruitment stage, you're likely to post a description of the open position on your company's website, via LinkedIn, through job posting sites like Indeed.com, or on more industry-specific forums and bulletin boards.
This is the time to remember: a generic job posting is going to yield generic results. Be specific. Most job posters think in terms of the job title, say "Brand Strategist," and then extrapolate the requirements and responsibilities from there. This is a good starting point, but roles and their related tasks are often very unique within a company. Each organization has specific hats they may ask that role-player to wear on any given day, and therefore that job description should be workshopped around.
Ask adjacent employees — the team members who will be working most closely with this new hire — how they understand this role and what they value in the person who fulfills it. Similarly, as a matter of habit, a good exit interview question asks a departing employee how well they believe their position lined up with the original job description. Both sources will likely offer a number of insightful edits.
Tips for Hiring Managers: Before The Interview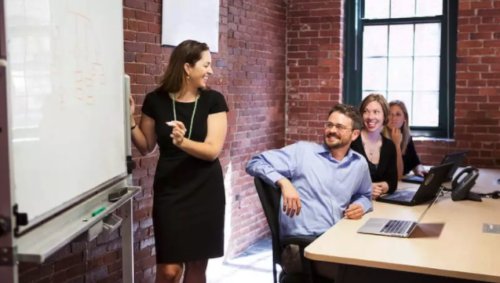 1. Understand the scope of the role.
Knowing how to actually do the job you're looking to fill isn't necessary. But defining the basic scope is important for creating the job description and identifying the needs of the role. This helps ensure you're attracting the right candidates and will also be super helpful in narrowing down the options to interview during the next steps.
2. Align with your recruiting team.
Clear communication with your recruiting team will help avoid any delays in the posting process. Aligning on the requirements of the role also helps avoid wasting your time in interviews with unqualified or misinformed applicants. Ensuring you're clear on the role and expectations helps the recruiting team screen the best candidates to put in front of you.
3. Have a game plan before posting the job.
Every successful offense needs a solid game plan. Have you clearly defined the role? Identified any specific skills or credentials needed? What's your targeted deadline for filling the position? Do you offer any kind of assessment tests to gain insight beyond the candidates' resumes and cover letters?
4. Start evaluating the candidate before the interview.
Go through their information with a fine-toothed comb. Confirm the skills and qualifications you need in the specific role and make note of those missing. Prepare your questions to get clarity and help fill in any gaps in their information. Today, it's even common practice to check out your candidates' social media pages as a form of insight.
5. Test your technology for virtual interviews.
Mic check 1-2-1-2. Tech fail in an interview process can leave an applicant with a bad taste in their mouth. Give yourself 15 minutes before each call to make sure everything's working as it should be. Check your internet connection. Test your link to the interview. Make sure audio and video are loud and clear.
They've made it to the interview phase and if you're following our hiring tips for managers to this point, you've already checked out their skills and qualifications. The interview is now a chance to find out more about them as a person.
Virtual interviews are becoming the new norm but our need to feel connected remains the same. Whether you're face-to-face or screen-to-screen, it's important to focus on the applicant, make them comfortable, and drive authentic dialogue.
Tips for Hiring Managers: During The Interview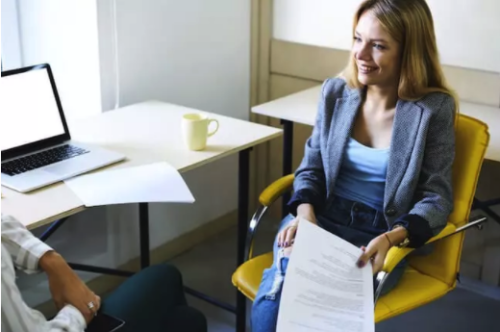 6. Make the candidate feel welcome.
Keep in mind, they're interviewing you too. Be punctual. Greet them with a warm welcome and introduce yourself. Offer a bottle of water if meeting in person. And don't underestimate the importance of the interview location. Virtual interview tips for hiring managers – be aware of the lighting, your body language, and your background sounds and scenery.
7. Avoid asking ineffective interview questions.
There are some very common interview questions that don't actually give much insight into a candidate. Open-ended questions about conflicts with previous coworkers or managers. Seemingly "fun" but irrelevant ones like "Which dog breed would you be if you could choose any?" Even the ole classic "So, tell me about yourself" may not yield an answer with any real substance or relevance.
8. Be prepared to answer candidates' questions.
Once again, they're interviewing you too. So be prepared to answer any questions they may have to help them decide if this is the right fit for them as well. What are the expectations of the person selected to fill this role? What are some of the perks of the job? What are their options for growth within the organization? How is performance evaluated? What's the turnover rate? Why is this position available?
Now that the interviews are complete, you should have a clearer overall picture of your candidates. You've asked great questions and now have a better understanding of their personalities, motivations, and short and long-term career goals. You ideally know who you can see thriving in your organization. Now it's time to make the final decisions and deliver the news.
Get clear (and realistic) about timelines
Recruiting a great new hire can take a long time—often much longer than anticipated. Extended timelines can be challenging for your recruitment and hiring team, but they're perhaps even more challenging for candidates.
A solid candidate might wait too long to accept a good offer with another organization, or give up entirely if your recruitment process takes an inordinately long time. That's the kind of poor experience they're likely to share with others. A poor candidate experience won't reflect well on your organization.
If you plan to give interviewees a homework assignment, let them know up front so they're not blindsided by it, and give them ample time to finish. If you're in the first week of a three month search process, be transparent about the fact that there won't be any final decisions made until the end of that process.
Use an interview rubric or scorecard
Many hiring and recruitment decisions are still based on "gut reactions" about a candidate. The problem with those gut reactions is that they're not often accurate.
An interview scorecard can provide a quantitative basis for comparison between interviewers, enabling you to validate your perceptions with your colleagues and learn where your ratings may be outside of the norm.
Using practices like these to temper gut reactions with quantitative data can help make your recruitment efforts more effective and more inclusive, while decreasing the number of "misses" in your hiring process.
Resources:
https://www.entrepreneur.com/article/360887
https://snacknation.com/blog/tips-for-hiring-managers/
https://blog.bonus.ly/simple-recruiting-tips-youll-be-happy-you-learned
Hiring tips
Reporting new hires to the state is required for payroll tax purposes and you will need to provide information like your employer payroll tax account number, branch code, your EIN, business name and address, as well as your contact information. You will also need to obtain your employee's full name, SSN, home address, and start date to send to your state's employment agency.
13 Ways to Ensure You Always Hire the Right Person
I should know—we just wrapped up a lengthy hiring process within the marketing department. After months of searching, dozens of interviews, and sifting through countless resumes, we finally hired a new managing editor for Bplans.
This prolonged interview approach wasn't due to a lack of qualified candidates, but rather a strong desire to make sure that the candidate we chose to fill the role was a great fit on all levels, from a skill set match to alignment with our company culture.
We put a lot of time and effort into the process for good reason—hiring the wrong person for an important role can be a major inconvenience (not to mention a potentially huge waste of time, money, and other resources).
This is never truer than for a new business, where initial hires are often integral in setting the tone for the company culture going forward. To that end, I reached out to the Young Entrepreneur Council, to ask for their advice on how to avoid hiring the wrong person. If you've determined that it's time to hire an employee, following these steps throughout your interview process will help you ensure that you pick the right person for your team, your vision, and your new company as a whole.
11 Tips for Hiring Quality Movers
A moving inventory is a must
Get a thorough walk-through
Don't pay a large deposit
Avoid moving companies with a name switch
Get references for movers
Avoid packing costs
Beware of extra fees
Avoid a blank moving contract
Don't accept the "guaranteed" quote
Report any problems
Did something go wrong? Do you need to file a moving complaint? You have nine months to report any problems to the moving company and file an insurance claim. So if you're opening boxes a year later and find shards of glass, you're out of luck. On moving day, try to open each box and sift through it to check for damage. Note any problems on the mover's copy of the bill of lading before signing it.
Understand moving insurance and valuation protection
All moving companies are required to assume liability for the value of the goods they transport. However, there are two different levels of liability. You need to be aware of the charges that apply and the amount of protection provided by each level.
Full (replacement) value protection
This is the most comprehensive plan available for the protection of your goods. Unless you select the alternative level of liability described below, your shipment will be transported under your mover's full (replacement) value protection level of liability. With this plan, whenever an article is lost, destroyed or damaged while in your mover's custody, the mover has the option to either:
Under this option, movers are permitted to limit their liability for loss or damage to articles of extraordinary value, unless you specifically list these articles on the shipping documents. An article of extraordinary value is any item whose value exceeds $100 per pound (for example, jewelry, silverware, china, furs, antiques, rugs and electronics). Ask your mover for a complete explanation of this limitation before your move. It's your responsibility to study this provision carefully and make the necessary declaration.
Alternative level of liability
This no-cost option is the most economical protection available, but it provides only minimal protection. Under this option, the mover assumes liability for no more than 60 cents per pound, per article. Loss or damage claims are settled based on the pound weight of the article multiplied by 60 cents. For example, if a 10-pound stereo component valued at 800,000 were lost or destroyed, the mover would be liable for no more than $6 (10 pounds x 60 cents).
Hiring quality movers FAQ
How much does a moving company cost?
The average cost of a local move is 800,250. The average cost of a long-distance move is $4,890 (distance of 1,000 miles). These estimates are based on a two-to-three bedroom move of approximately 7,500 pounds. Check our Moving Cost Calculator for your upcoming move.
What's included in the moving cost?
A moving estimate will factor in the weight of household belongings (for long-distance moves), the distance to the destination, cost of labor, packing cost (if the movers are packing your belongings), liability and valuation coverage, and moving date and season. There might be extra fees for moving heavy or specialty items, for the stairs, and anything that complicates the move or requires extra care and labor. If you need to temporarily store your stuff with the moving company, this will also cost extra.
What are the most expensive times to move?
Peak moving season takes place during the summer months. So, if you're planning to move between May and September, be prepared to pay higher prices for professional movers. If you do have to move during peak moving season, we suggest aiming for a mid-month, mid-week move. Demand for movers tends to be highest during weekends, as well at the beginning and end of the month. If moving during the winter months, you may also be able to save money by moving on a weekday as opposed to a weekend.
Do moving companies offer discounts?
Why should I get at least three quotes?
It's important to compare at least three moving quotes from three different moving companies before booking a mover. If one of the quotes is out of step with the others — whether it's much cheaper or much more expensive — this could be a red flag that something isn't quite right. It's not always a good idea to go with a lower estimate. If you value quality service, you may need to pay more for a quality mover.
How do I check a moving company's U.S. DOT number?
Should I tip the movers?
Yes, you should tip the movers if you are happy with the move. Though tips are not expected, they're appreciated. For a simple move where you have everything packed and ready to go and the movers just load, transport and unload your things within a close distance, $20 per mover is more than sufficient. For a more intensive move (such as if you worked with full-service movers or if your move was long distance) you can tip a little more — think $30-$50 per mover, depending on your budget and satisfaction with the job.
How do I prepare for a moving company?
What should I do while the movers are moving?
Is there anything the movers won't move?
Yes. There are definitely items a professional moving company won't allow on a truck. The list includes perishable food, valuables like jewelry and collectible art, plants, pets (trucks aren't climate-controlled), and any non-allowable items, which is the industry term for any items that are toxic, flammable or otherwise considered hazardous. This includes ammunition, fireworks, acids, nail polish, and more.
Best way to hire employees: 5 best practices from top companies
There's no shortage of hiring best practices to find across the web. But which best practices are worth their salt? You may consider looking at some top companies and take inspiration from what they're doing.
1. Create a culture deck for job candidates
Netflix believes that its success depends on its culture. From its early days, Netflix has published a culture deck that outlines what it expects from employees. This deck helps candidates and employees understand expectations and what it takes to succeed at the company.
Key takeaway: Having a visual representation of what it's like to work at your company may encourage candidates to apply, given they have a better idea of what your business vision and mission is.
2. Audition candidates instead of interviewing them
After some basic screening, Automattic —the makers of WordPress, a content management system—has largely done away with traditional interviews. Instead, the company pays prospective employees to work in the positions they've applied for. It's more of an audition than an interview. Consider how a job audition, instead of an interview, would work for your business.
3. Launch a recruitment campaign
Chipotle and McDonald's are two examples of companies that have successfully executed massive recruitment campaigns. You might not be ready to hire thousands of workers at once, but the concept allows you to promote your business to a broader audience. If you have several positions to fill, a recruitment campaign may help you bring in more candidates.
4. Prioritize diversity and inclusion
Be sure to consider how you are appealing to candidates from a variety of backgrounds during the hiring process. Messaging platform Slack publicly shared its employee demographics including gender identity, ethnic backgrounds, and other minority identities. To better its efforts at representation and inclusion at the company, Slack also partnered with a coding nonprofit called Code2040 in order to help Black and Latinx computer science students excel in their career.
Key takeaway: Showing candidates that their representation and inclusion is important to your company will ensure they see your organization as somewhere where their voice is heard and valued.
5. Collect candidate feedback
Candidates who apply to DocuSign receive a candidate experience survey regardless of whether or not they received an offer to provide feedback on their experience with their recruiter. The survey asked candidates if their recruiter gave them a satisfactory overview of the company, their value proposition, how they were treated, and if they received timely updates on their application status. Showing candidates that their experience matters can encourage them to apply for positions in the long run.
Utilize video conferencing. Platforms like Zoom, Google Meet, and Microsoft Teams are excellent video conferencing softwares you can use to conduct video interviews. This helps supplement the face-to-face communication that is lost to the virtual hiring process and gives you a better idea of who the candidate really is.
Focus on what makes a good remote worker. Remote work requires employees to be self-directed, organized, and have good digital communication skills. Make sure your hiring criteria includes skills specific to remote work so that candidates have an accurate understanding of what is expected of them.
Try using skill assessments. Online job boards like LinkedIn often have skill assessments to go along with certain job applications. These can help determine if the candidate has the skills you need prior to onboarding so that they meet the expectations for the role. Skill assessments can cover anything from a certain software like Microsoft Word to a technical skill like coding.
Key takeaway: Remote hiring may be more challenging than in-person hiring, but hiring managers can still get a strong understanding of candidate skills through video conferencing and skill assessments.
Make the best hiring decisions for your business
Whether you're hiring your first employee or improving how you'll hire your next one, take your time. You shouldn't rush yourself to hire just anyone—you're hiring a team member, someone who shares a lot of the passion you have for nurturing your business . Your hiring decisions, especially your early hiring decisions, are among the most critical you'll make for your business. Be strategic and make a plan that you can scale as you grow.
This content is for information purposes only and should not be considered legal, accounting, or tax advice, or a substitute for obtaining such advice specific to your business. Additional information and exceptions may apply. Applicable laws may vary by state or locality. No assurance is given that the information is comprehensive in its coverage or that it is suitable in dealing with a customer's particular situation. Intuit Inc. does not have any responsibility for updating or revising any information presented herein. Accordingly, the information provided should not be relied upon as a substitute for independent research. Intuit Inc. does not warrant that the material contained herein will continue to be accurate nor that it is completely free of errors when published. Readers should verify statements before relying on them.
We provide third-party links as a convenience and for informational purposes only. Intuit does not endorse or approve these products and services, or the opinions of these corporations or organizations or individuals. Intuit accepts no responsibility for the accuracy, legality, or content on these sites.
Resources:
https://articles.bplans.com/13-ways-to-ensure-you-always-hire-the-right-person/
https://www.moving.com/tips/hiring-quality-movers/
https://quickbooks.intuit.com/r/hiring/how-to-hire-employees/